Viewing Information
Angel TV initially with one weekly programme, began broadcasting in 2000 and today, we working towards covering every inhabited continent with 24 hours a day, 7 days a week television programming through a network of satellites.
Angel TV is uplinked to the different Satelllites footprint blankets 100 nations in Asia, Australia, Europe, Middle East, America, Russia and Africa, with a potential audience of 4 billion people.
Angel TV is committed to provide your cable company with first-rate digital programming. Call us and see what Angel TV can do for you and your subscribers. Our quality Christian lifestyle programming is distinctive and fresh, and our viewer loyalty to you, the cable provider, may amaze you!
You can tune to Angel TV on the following coordinates:

Satellite Downlink Transmission Details
ISRAEL Viewers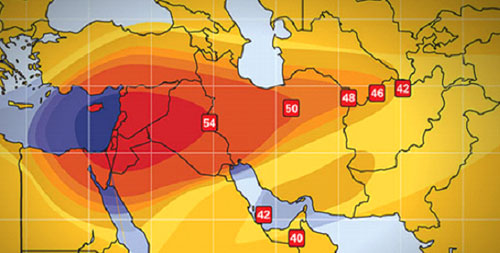 Satellite : AMOS 3
Orbital Location : 4.0° West
Band : Ku-Band
Downlink Frequency : 11.671GHz
Symbol Rate : 1.480 Msps
FEC : 3/4
Modulation : DVB-S
Polarization : Vertical
Compression : MPEG-2 / SD-PAL
Coverage Area : ISRAEL,MIDDLE EAST & EUROPE
---
NORTH AMERICA and, LATIN AMERICA Viewers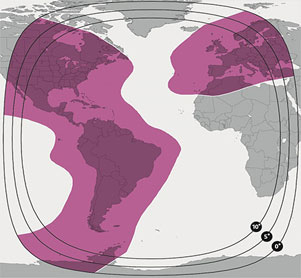 Satellite : SES 6


Orbital Location : 40.5° West
Transponder : 64C
Band : C-band
Downlink Frequency : 3870.25 MHz
Polarization : LHCP
Symbol Rate : 3.75 Msps
Modulation : DVB-S2 – 8PSK
Coverage Area : NORTH AMERICA, LATIN AMERICA, EUROPE & ATLANTIC OCEAN
---
CHINA, HONG KONG, TAIWAN and ASIA PACIFIC Viewers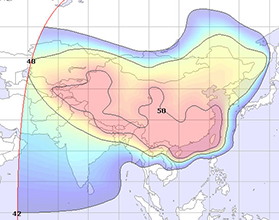 *wth effect from 01 Dec 2015
Satellite : TELSTAR 18/APSTAR 5

Orbital Location : 138° East
Center Frequency : 12499 Mhz
Polarization : Vertical
Modulation : DVBS2 / 8PSK
FEC : 3/4
Symbol Rate : 7200
Coverage Area : CHINA, TAIWAN & HONG KONG
---
BRAZIL, MOZAMBIQUE, ANGOLA, PORTUGAL, GUINEA-BISSAU, EAST TIMOR, MACAU & CAPE VERDE Viewers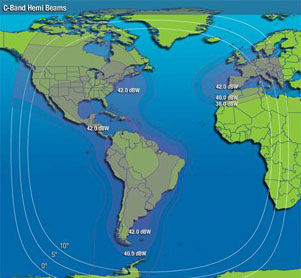 Satellite : INTELSAT 34 (IS-34)


Orbital Location : 55.5° West
Tranponder : 20C
Band : C-band
Downlink Frequency : 4124.00 MHz
Polarization : Horizontal
Symbol Rate : 1.667 Msps
Modulation : DVB-S2 & 8PSK
Encoding : MPEG-4
Audio : MPEG 1-L2
Coverage Area : BRAZIL, MOZAMBIQUE, ANGOLA, PORTUGAL, GUINEA-BISSAU, EAST TIMOR, MACAU & CAPE VERDE
---
MIDDLE EAST | NORTH AFRICA | NORTH WEST AFRICA Viewers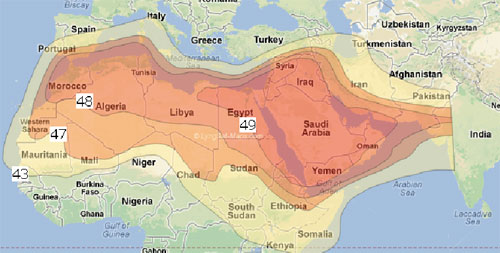 Satellite : EUTELSAT 7WA
Orbital Location : 7.3° West A
Band : Ku-Band
Frequency : 11.680 GHz
Symbol Rate : 27.500 Msps
FEC : 3/4
Modulation: DVB-S
Polarization : Horizontal
Compression : MPEG2/SD
Coverage Area : MIDDLE EAST, NORTH AFRICA & NORTH WEST AFRICA
---
PHILIPPINES | JAPAN | KOREA | MYANMAR | CAMBODIA Viewers
Satellite : ASIASAT 5
Orbital Location : 100.5° East
Transponder Number : C6H
Polarization : H-pol
Downlink Frequency : 3840 MHz
Symbol Rate : 29.72 Msps
Digital Transmission Type : DVB-S2
Modulation : 8PSK
FEC : 5/6
Coverage Area : PHILIPPINES, JAPAN, KOREA, MYANMAR & CAMBODIA
---
RUSSIA Viewers

Satellite : YAMAL 300K
Orbital Location: 90 Degrees East
Transponder : 6A
Downlink Frequency: 11669 MHz
Polarization: Horizontal
Symbol Rate: 14400 Msps
FEC: 5/6
Modulation: DVB-S2, 8PSK
Beam: Northern beam 1
Coverage Area: Russia
---
AFRICA | EUROPE Viewers
Satellite : INTELSAT 20 (IS20)
Orbital Location : 68.5° East
Band : Ku-Band
Transponder : 25K
Downlink Frequency : 12.522 GHz
Polarization : Vertical
Symbol Rate : 30.000 Msps
FEC : 3/5
Modulation : DVB-S
Compression : MPEG-2 / SD
Coverage Area : EUROPE & AFRICA
---
NORTH AMERICA Viewers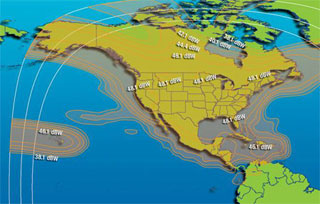 Satellite : GALAXY 19
Orbital Location : 97° West
Band : Ku-band
Downlink Frequency : 11966 MHz
Polarization : Horizontal
Symbol Rate : 22000 Msps
FEC : 3/4
Compression : MPEG2-SD
Modulation : DVB-S
Coverage Area : NORTH AMERICA
---
AUSTRALIA | NEW ZEALAND Viewers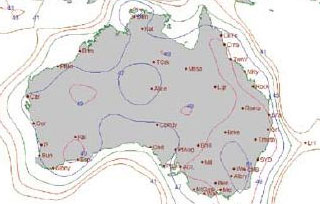 Satellite : Optus D2
Orbital Location : 152 Degree East
Band : Ku-band
Downlink Frequency : 12608 MHz
Polarization : Horizontal
Symbol Rate :22500 Msps
FEC : 3/4
Compression : MPEG2-SD
Modulation : DVB-S
Coverage Area : AUSTRALIA & NEW ZEALAND
---
Indian, European, Asian and Australian Viewers


Satellite Name: INTELSAT 17 (IS17) @ 66 degree East
Orbital Location : 66° East
Frequency Band: C
Downlink Frequency: 4015.0 MHz
Symbol Rate: 30000Msps
FEC: 3/4
Modulation: DVBS-2 – 8PSK
Polarization : Vertical
Format: MPEG-4 – HD
Coverage Area: Asia, Middle East, Europe,
Africa & Australia

---
Europe and Middle East Viewers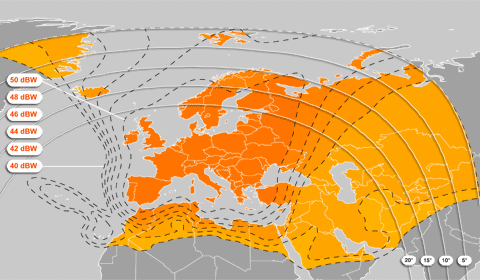 Satellite: Hotbird 13D At 13°E
Orbital Location : 13° East
Band : Ku-band
Transponder: 134
Reception Frequency : 11200 MHz
Symbol Rate : 27500 Msyb
FEC : 5/6
Modulation : DVB-S
Polarization : Vertical
Compression : MPEG-2 / SD
Coverage Area :EUROPEAN UNION COUNTRIES, MIDDLE EAST & NORTH AFRICA